clue medical is a light, smart and small latest generation event-recorder. In 2 minutes it records - with our without adhesive electrodes - an ECG and transfers the evaluated recordings to your computer or mobile phone. There they are presented in graphic form.
Measurements of cardiac functions can be performed where symptoms arise - since symptoms do not arise in the doctor's room or the hospital but rather at home, at work, on the go or even on holiday.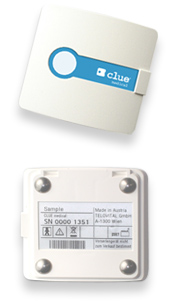 clue medical - is multifunctional and…
measures whether the heart is working properly
detects arrhthymias and other heart diseases
shows your individual stress level
warns of burnout and anxiety disorders
improves your quality of life
Every situation which impacts the autonomous nervous system is made visible by clue medical.
What gets measured?
Average heart rate
Average duration of the cardiac cycle (average duration of the RR intervals during the measurement period)
Standard deviation (difference between an RR interval and the average RR interval during the measurement period)
Absolute heart rate variability (SDNN) in milliseconds
Relative heart rate variability (CV) in %
Cardiovascular risk markers

What advantages offers clue medical in comparison to the Holter electrocardiogram (ECG measurement over 24 hours)?
clue medical is universally mobile, can easily be operated by the patient and can be used across all communication channels (PC, mobile telephony) worldwide through immediate data transfer.
clue medical can transfer the recordings across all telecommunication connections, worldwide and around the clock.
The evaluations recorded with clue medical can also be – in visualized form – accessed and evaluated by the doctor worldwide and around the clock with a user ID and password.
clue medical is certified both by US and European Authorities (FDA and CE).